Custom Search
Financial Centers
United States
New York City, Chicago
Canada
Toronto
Europe
London, Frankfurt, Zurich
Asia
Hong Kong, Singapore, Tokyo
Latin America and the Caribbean
Jersey
Africa and the Middle East
Dubai
Stocks, Commodities and Forex Trading News Stories
Cocoa prices are likely to go up, according to different signs of the market
Sept. 27, 2010 by Samuel Chong
Prices of cocoa have risen in the futures market on Monday, September 27, 2010, along with other soft commodities such as sugar, coffee, and cotton.
Previously, traders from world's top cocoa exporters suggested that the "Ivory Coast crop will be pretty good" and that many people expect a downward pressure of prices of cocoa. Indeed, cocoa prices on London's Liffe market LCCc2 have fallen over 20 percent since hitting a 32-year peak in July largely because of improved supply prospects. However, some people seem to have doubts on the outlook of the West African crop, pushing cocoa prices higher.
Meanwhile, domestic cocoa prices in Ivory Coast have fallen in the past week, signaling that there will be an abundant crop this fall.
On the other hand, Bloomberg has reported that cocoa production in Uganda, Africa's biggest producer of robusta coffee, may climb as much as 13 percent next season as new trees start bearing fruit, according to the state-run Cocoa Development Project.

John Muwanga Musisi, project coordinator at the Ministry of Agriculture, says that the output in the 12 months through September 2011 may rise to 17,000 metric tons from an estimated 15,000 tons this season.

With a plan for diversification, Uganda plans to plant an additional 35,000 hectares with cocoa in the next five years, hoping to raise the production of the chocolate ingredient to 50,000 tons by 2015- 16.

Currently, Ivory Coast is the world's largest cocoa grower, followed by Ghana, Indonesia and Nigeria.
Long Term Price of Cocoa (Since 1981)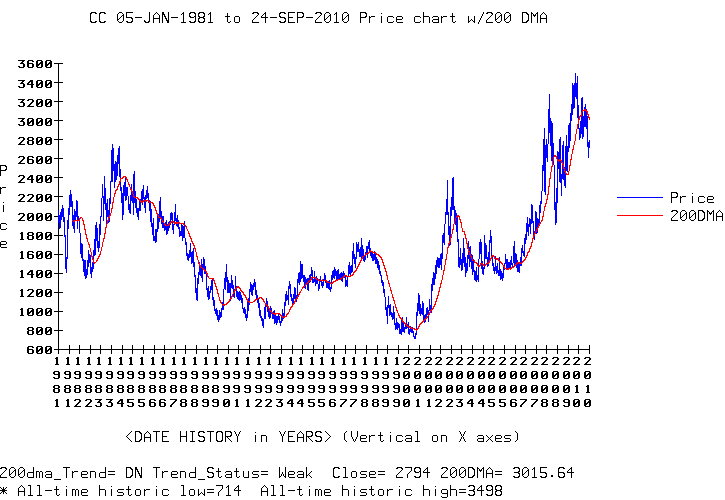 With the analysis above, it would be obvious to see the prices of cocoa go down. However, today, the prices of cocoa jumped, rising to a five-week high. This is under the circumstances that the price of cocoa has dropped 14 percent this year on signs of increasing supply. Production of cocoa may exceed demand by 75,000 tons, plus or minus 25,000 tons, in the season that starts next month, according to the forecast of the International Cocoa Organization.

This is a classic example of the market going to an opposite direction from people's expectations. This indicates that the prices of cocoa will go up in near term.