Custom Search
Financial Centers
United States
New York City, Chicago
Canada
Toronto
Europe
London, Frankfurt, Zurich
Asia
Hong Kong, Singapore, Tokyo
Latin America and the Caribbean
Jersey
Africa and the Middle East
Dubai
Stocks, Commodities and Forex Trading News Stories
Good Companies with High Dividend Yields
October 1, 2010 by Samuel Chong
We believe that the US stock market will probably go up in the next a few months because of the upcoming election as well as the fact that the feds still want to keep interest rates low.
In fact, many quality companies in the US have had dividend yields higher than the treasury bonds. Many of these companies are near monopolies such as Monsanto (MON) and Chicago Mercantile Exchange (CME).
In a recent issue of "On Focus" by Martin Spring, it lists some of the companies that the Martin considered to have a global franchise, offering attractive yields and leverage to the growth of the global economy. The list includes Acer, BHP Billiton, McDonalds, Microsoft, Nestle, Petrochina, Procter & Gamble, Syngenta, Telefonica, Toshiba Plant Systems, etc.
According to the current issue, Bill Miller, chief investment officer at Legg Mason Capital Management, says that now is "a once-in-a-lifetime opportunity… to buy the best quality companies in the world at bargain prices. The last time they were this cheap relative to bonds was 1951."

However, the list does not include Monsanto and Chicago Mercantile Exchange.
Recent insider buying activities show that directors within the companies either have plenty of cash to spend, or that they believe that the companies are undervalued, or both. Currently, the Chicago Mercantile Exchange is traded at below its book value.
Long Term Price Chart of the CME Group Inc.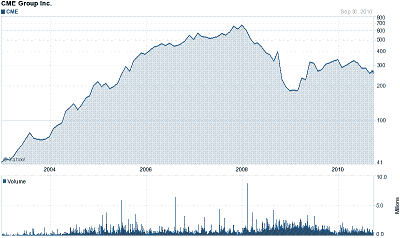 Long Term Price Chart of Monsanto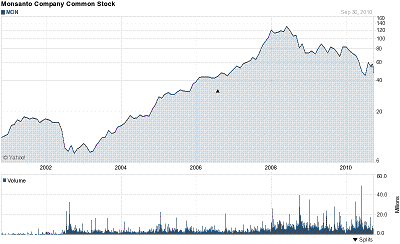 Thus, the decision is yours.
.
.