Custom Search
Financial Centers
United States
New York City, Chicago
Canada
Toronto
Europe
London, Frankfurt, Zurich
Asia
Hong Kong, Singapore, Tokyo
Latin America and the Caribbean
Jersey
Africa and the Middle East
Dubai
Stocks, Commodities and Forex Trading News Stories
Agriculture Company in China
-A Promising Industry, but Not Necessarily Ideal for Investors
October 4, 2010 by Samuel Chong
If you have the opportunity to talk to people from China, you will learn that the prices of food products in China have risen far more than what the official inflation rate is. The prices of vegetables have risen over 10% per year for the last two years, and the prices of fruits are also extremely high compared to local standards. Many people have considered moving to the United States for the better environment, not just the physical environment such as better air quality, but also better economic environment such as stability of prices.
You might wonder about the agriculture companies in China, and that they must have been making a lot of money. Yes, there are many agriculture companies that grow food produce such as fruits and vegetables. Chaoda Modern Agriculture (Holdings) Ltd (Public, HKG:0682) is one example.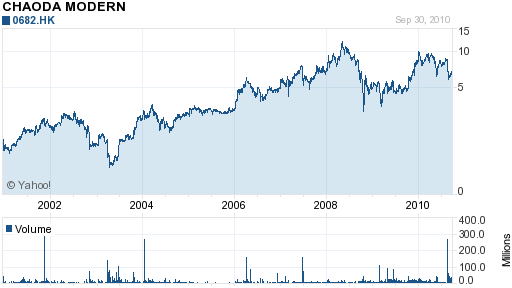 With the increased prices in China, Chaoda must be making a lot of money. That is indeed the case. Chaoda has a net profit margin of 65%, and operating margin of 49%. However, how is the company treating its minority shareholders? We do not know the details, but we know that the company has been trying to expand recently, offering new shares for the expansion of its businesses.
In a country like China in which there is a high growth, it is important to expand. However, is offering new shares the right way to obtain new funds?
The company's agricultural products are perishable, making it hard to audit. Some of the businesses are conducted in cash, and there is also the need to use the company's resources to build relationships. Thus, minority shareholders might not be able to take full advantage of the increased prices of agriculture products in China.
Currently, the shares of Chaoda is traded at a P/E ratio of 5.08 and a P/Book Value of 1.00. The share price is attractive, but I am still reluctant to buy.
.
.