Custom Search
Financial Centers
United States
New York City, Chicago
Canada
Toronto
Europe
London, Frankfurt, Zurich
Asia
Hong Kong, Singapore, Tokyo
Latin America and the Caribbean
Jersey
Africa and the Middle East
Dubai
Stocks, Commodities and Forex Trading News Stories
Prices of rough rice may continue to rise due to supply crunch and substitution effect
Sept. 26, 2010 by Samuel Chong
Opportunities often come to the least noticed commodities. In this case, it is rough rice. Recent droughts in Russia and flooding in Pakistan may have affected the prices of wheat. However, countries in Asia, such as China, Japan, and Vietnam, rice is still a major commodity that has a substitution effect to wheat.
Thus, the recent events "could negatively affect the rice trade", says the UN Food and Agricultural Organization. The organization estimates that the supply of rice for exports next year will decrease to 29 million tons, down from an estimated value of 30.4 million this year.

"We feel that rough rice is the next agriculture related commodity that will go up in value. We have seen a strong movement in rough rice prices already." says Peter Chen, a Chinese trader.
Indeed, rough rice seems cheap when looking at its 25 year price chart below.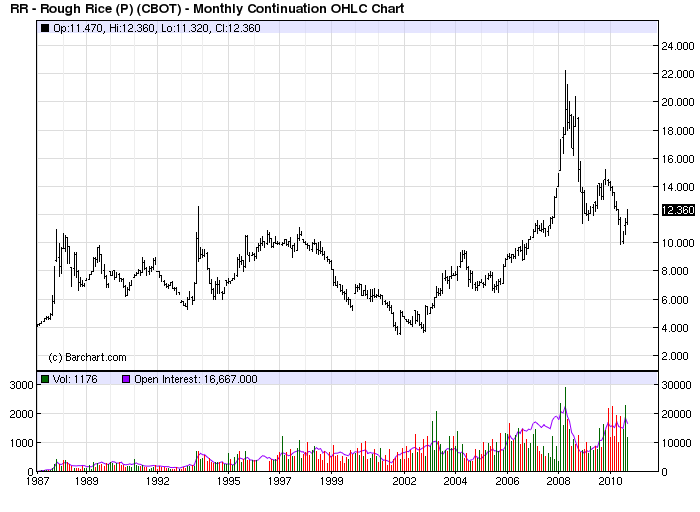 In fact, well known investors such as Jim Rogers have been suggesting people to buy rice, because it is one of the commodities that have not gone up much in prices. We agree, and we believe that the prices of rice will rise further.