Custom Search
Financial Centers
United States
New York City, Chicago
Canada
Toronto
Europe
London, Frankfurt, Zurich
Asia
Hong Kong, Singapore, Tokyo
Latin America and the Caribbean
Jersey
Africa and the Middle East
Dubai
Stocks, Commodities and Forex Trading News Stories
Japanese Yen Appreciates and the Yen Carry Trade
Sept. 28, 2010 by Samuel Chong
The Japanese yen appreciates against the US dollar Tuesday as the dollar sank below Y84.11.

On Sep. 15, the Bank of Japan (BOJ) sold Y2 trillion ($24 billion) in an effort to help exporters and deflect deflationary pressures. It was the BOJ's first intervention since 2004. However, it only enabled the Yen to go lower for a week. Since then, the Yen has appreciated
According to experts, the primary driving force for the Yen's rally is the Yen carry trade. The Yen carry trade is borrowing at low interest rates in yen and using the loan to buy higher yielding assets elsewhere. Given the Japanese Economies size (liquidity) and the prospects for Global Inflation increasing near zero it's a no-brainer to borrow for size near 0.00% (Japan) and lend at a higher rate around the world.

The end of of the yen carry trade could be devastating for capital markets throughout the world. Experts estimate that there are several hundred billion dollars of positions in the carry trade to be unwound. David Bloom, currency analyst at HSBC, says that it has pervaded "every single instrument imaginable", so that when it comes to an end it's going to be "ugly".
Currently, we are seeing a possibility of that happening.
Below is a long term chart for Japanese Yen.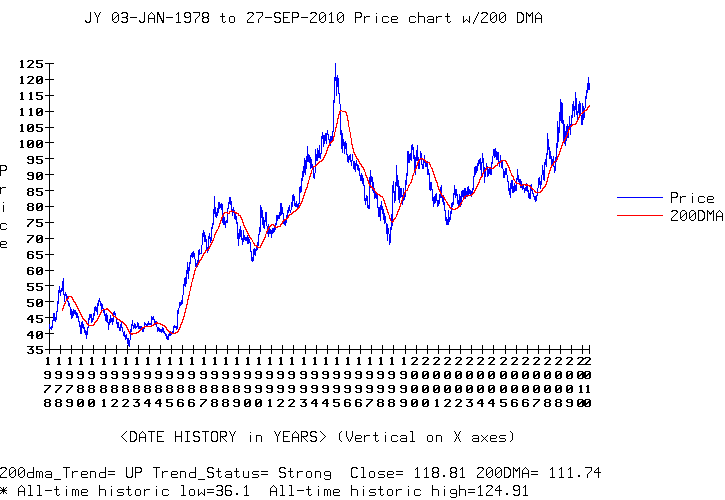 .
.